We recently visited Cadbury World in Birmingham and absolutely loved the day out and I wanted to write up a little review of our time there. I'll try and add as much info as I can into the post but if I leave anything out please ask in the comments. If you would like to see more photos and videos of our day at Cadbury World you can find them over on Instagram- @katieflossblog under the highlight Cadbury World Review.
Cadbury world price
Cadbury World is an amazing day out for families and anyone who loves chocolate. It's the real life Willy Wonker Chocolate Factory; what more is there to love?! At the door price of Cadbury World is £19 for an adult, £14 for ages 4 to 15 and free for under 4's; but please be aware you currently have to book online due to covid. We booked ours 30 minutes before arriving so you can definitely do it last minute. You can get a small discount by buying a family ticket but as Elara is under the age of 4 she was free anyway. We paid £36.10 for the three of us and I would say it's a lovely half day out and we enjoyed thoroughly and it was worth the price for us personally. I would say Cadbury World was a half day experience but you can definitely stay there for the entire day if you wanted to.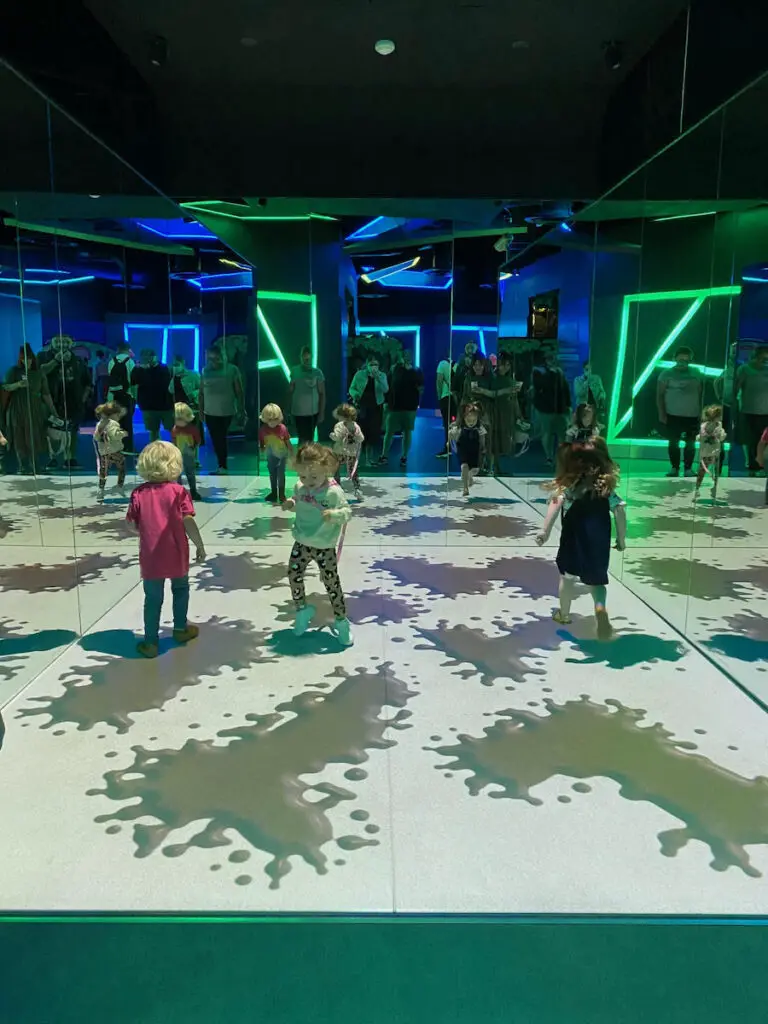 cadbury world age range
Cadbury World is a family day out that adults as well as children will enjoy but I would personally say that teenagers would probably not enjoy the day there as it is catered more for children. Whilst we were there there was a school trip of children around the age of 6/7 and they seemed to thoroughly enjoy too. Elara had an incredible time and I would say the perfect age range would be under 10's. I have previously visited Cadbury World when I was around 20/21 and really enjoyed and did again this time at the grand old age of 29. Seeing Cadbury World through Elaras eyes was just magical. The little play park is catered more for older children as Elara at the age of 2, and a teeny age 2 at that, was a little too small for the slides and climbing frames.
best time to visit cadbury world
The same as anywhere really, during school time is always the quietest time to visit and we could leisurely go around the self guided tour. We had a tiny queue for the photos but everything else was quiet and we completed the self guided tour in around an hour and a half. We arrived at Cadbury World around 12:30, did the self guided tour, stopped in the cafe for some food and then continued on to the park and the 4d cinema.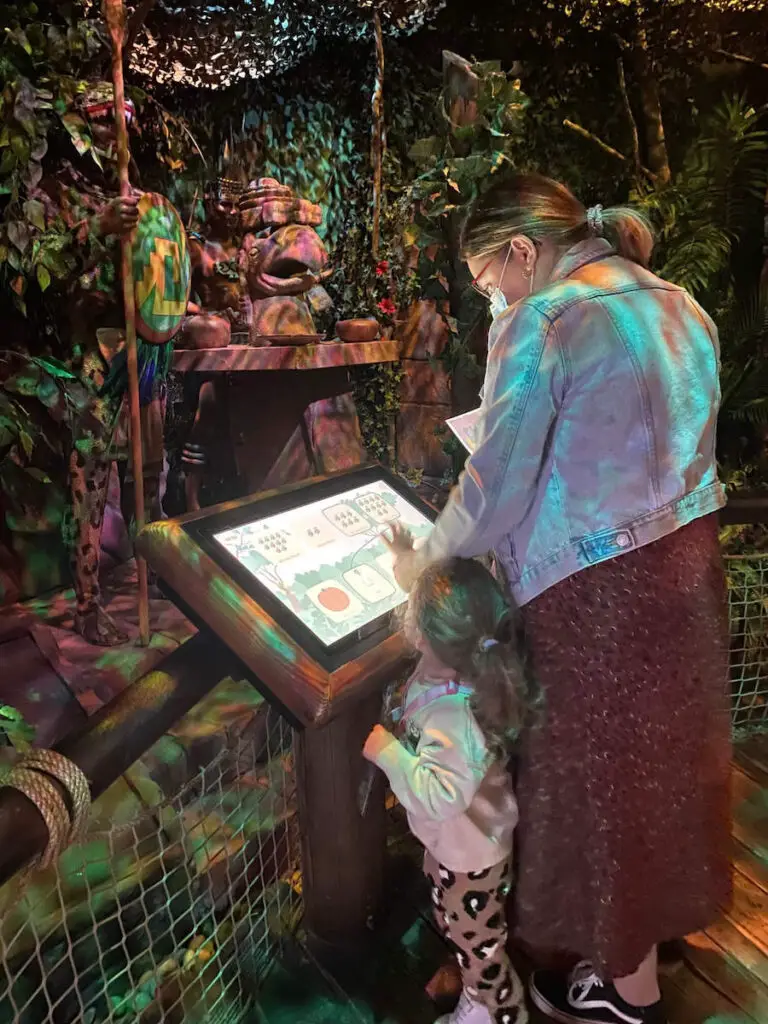 what to bring with you
Cadbury World is mainly an indoor activity with just the park outside and the 4d cinema being in a different building. So I would say to dress casually and wear comfy shoes as you walk around a lot and you don't want aching feet. I would personally bring a back pack with water bottles and any snacks for little ones. You can purchase food from the cafe before or after your tour but once your in the tour you can't really go back as it has a one way system. Which brings me nicely onto . .
where to eat
We ate in the Cadbury Cafe and purchased a panini and chips. We shared this between the three of us as we weren't super hungry and had been snacking on chocolate on our self guided tour. If we visit again I would purchase the afternoon tea ticket as this looked incredible and was a really good price. We saw lots of people tucking into their little sandwiches and Cadbury cakes and I was very jealous. I'm also partial to a cup of tea so it looked amazing to me. The afternoon tea plus admission ticket is just £24.50 which works out at just £5.50 each. Bargain!
accessibility
Cadbury World take accessibility very seriously and I am so happy to say that they have catered to various disabilities and wheelchair users are able to access everything. I was a wheelchair user for approximately 4 months which really opened my eyes to the struggles that some face on a daily basis and now I am an accessibility advocate and I emailed Cadbury World to tell them how impressed with the facilities I was. You can see more on the actions Cadbury World have taken with accessibility here. You can also take a pram throughout the self guided tour if you have little ones that tire easily. The first section of the self guided tour is dark with the area decorated to look like a rainforest. There are noises within the rainforest but not too loud.
Parking
Cadbury World has an onsite free car park with plenty of disabled spaces and all within close proximity to the entrance. There are numerous speed bumps to slow down traffic and we didn't have any issues finding a space to park. I've included this as I'm always someone that stresses about where to park. Anyone else?
where to stay
I'm definitely no expert on Birmingham but we personally stayed at the Drayton Manor Hotel as we were also visiting Drayton Manor whilst we were staying in Birmingham. The hotel was incredible and priced really well. It took us around 45 minutes to get to Cadbury World from our hotel by bypassing the M6 tolls. Full review of the hotel will be live soon.
what to do
The self guided tour is amazing and definitely something you can do at your own pace. At the beginning of the tour you learn about the origin of chocolate and go on to learn about the history of Cadbury. There are old adverts and packaging that brings back so many childhood memories for me. There was a chance to play with some melted chocolate and learn how to create the signature Dairy Milk sheen and also a tasting section which we all obviously loved. Here we are in front of the factory with our little tubs of melted Cadbury Chocolate with your choice of toppings. Yummy!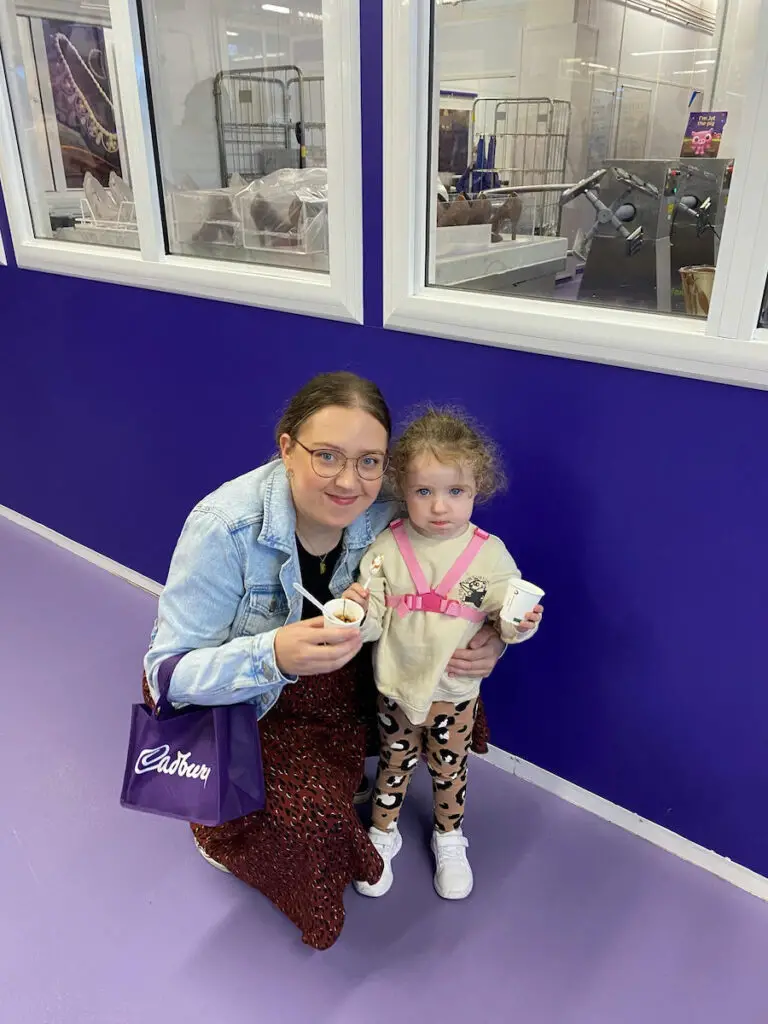 The bag you see me holding above is one I purchased as we entered Cadbury World which they filled up with yummy chocolate for the three of us to enjoy. We also had some photos taken of us surfing on a bar of Dairy Milk and actually bought them. Check out my Instagram stories to see them. We really enjoyed our experience of Cadbury World and you can find our must do's below.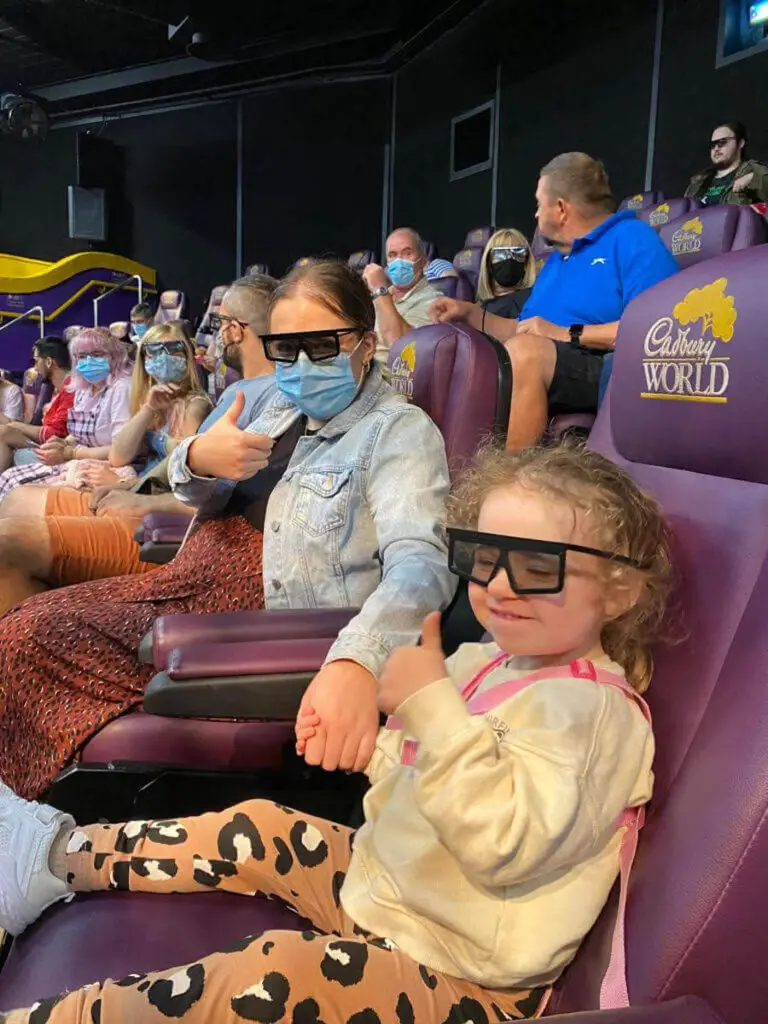 must do's
Our most do's are the little car ride within the self guided tour. We loved it and would highly recommend that but top of our list was the 4D cinema. The 4D cinema made the entire experience for us. We all LOVED it! It was unlike anything I have ever experienced. It was so smooth and gentle but weirdly it somehow felt like you were speeding around on a rollercoaster with chocolate beans shooting out at you. It really was an incredible experience.
Overall we loved our time at Cadbury World and would recommend popping by if you are in the Birmingham area. I hope this little Cadbury World review has helped you make up your mind to visit. It was a really lovely family day out and somewhere I would definitely visit again (and definitely get the afternoon tea package). Have you visited Cadbury World? What did you think of it?
Katie x