*This product was gifted and this post contains affiliate links
I was very kindly gifted the Vax Platinum Smartwash Carpet Cleaner recently to give our home a complete freshen up before baby arrives. It has been incredible for my nesting urges and I have loved seeing the before and afters of each room; which will be below, I love a good before and after and couldn't not show you. So here is my Vax Platinum Smartwash Carpet Cleaner Review.
benefits of using a carpet cleaner
I am currently 38 weeks pregnant and the nesting stage is well and truly in play. I am dusting, cleaning and stripping the house to death. Every surface has been cleaned and cleaned again but when it comes to carpets and rugs a quick vacuum and we forget all about them. When Vax reached out to ask if I wanted to try their new Smartwash Carpet Cleaner I absolutely jumped at the chance. Carpets are somewhere we sit and lie down with our little ones and we are forever rolling about on the carpets and rugs in our home, building blocks, tickle fights and simply changing nappies. We have picnics on the rug in the living room, we have post bath cuddles on the carpet in the bedrooms and we sit and read a multitude of books, all on the carpet. Although we vacuum daily this doesn't necessarily clean the carpets and there still could be unforeseen germs in the carpets. The Vax Platinum SmartWash Carpet Cleaner kills over 99% of bacteria and gives a really deep clean which really puts my mind at ease that the carpets are now full ready for our new addition to the family and lots more family fun on the carpets.
how the carpet cleaner works
The Vax Platinum SmartWash Carpet Cleaner is the UK's first carpet washer with Motion Sense Technology; Meaning there's no buttons to press you simply vacuum your carpets like you would with a standard vacuum cleaner. When you push forwards it washes the carpets and when you pull back it lifts away the dirt and dries. There is also a dry only mode so you can get your carpets super dry very quickly. It is so easy to use and has had a huge impact on how clean our carpets look. They also smell incredible and are definitely fluffier and look brand new. My nesting instinct has absolutely loved this and has made me feel ready for baby now. The Carpet Cleaner comes with 2 bottles of carpet shampoo, a pre treatment for stubborn stains, the main carpet cleaner itself and 2 further heads to use with your carpet cleaner.
The spin scrub tool and the anti microbial tool are incredible for doing the carpets on your stairs or even your car and lord knows that anyone with kids and pets needs to deep clean their car; mine definitely needs doing. Even in my third trimester of pregnancy I found the carpet cleaner super easy to set up and use. It weighs 7.4kg which is a lot lighter than I was expecting it to be and I found it glides across the carpets and rugs effortlessly. I personally didn't need to use the pretreatment on the carpets as we didn't have any stains or marks and it made the carpets look brand new. We did have a little yellow mark from a felt tip pen on our rug downstairs and even without the pre treatment the stain was removed.
As you can see from the before and after above the carpet looks brand new again; the colour of the carpet looks nicer and its definitely fluffier. I was very impressed with how much of a difference it made as these carpets are just 2 years old and very well looked after. To do our large bedroom carpet it took less than 5 minutes, it's really super quick and easy to use. In the before photo below of our rug you can see a little yellow mark from a felt tip pen but in the after photo its completely gone. The rug has fluffed up loads and looks and smells incredible. I am now a huge carpet cleaner convert.
vax platinum smartwash carpet cleaner best price
As the Vax Platinum Smartwash Carpet Cleaner is new to the market it is the same price everywhere at £299. Although I have found that TopCashback are offering 10% cash back on all purchases through Very which is currently selling this carpet cleaner. If you sign up to TopCashback through my link you will also receive a further £5 cash back meaning you will get the Vax Carpet Cleaner for just £264.01, thats a great deal. To keep your carpets and rugs looking and feeling incredible I would highly recommend investing in a carpet cleaner. They are super easy to use and make such a huge impact on your home. My carpet cleaner is now being passed around the family and everyone has commended how easy it is to use and what an impact it has on their home. I love it. Just look at the colour of this water after washing just the rug in my living room which is regularly spot cleaned and vacuumed daily. You need a carpet cleaner, trust me.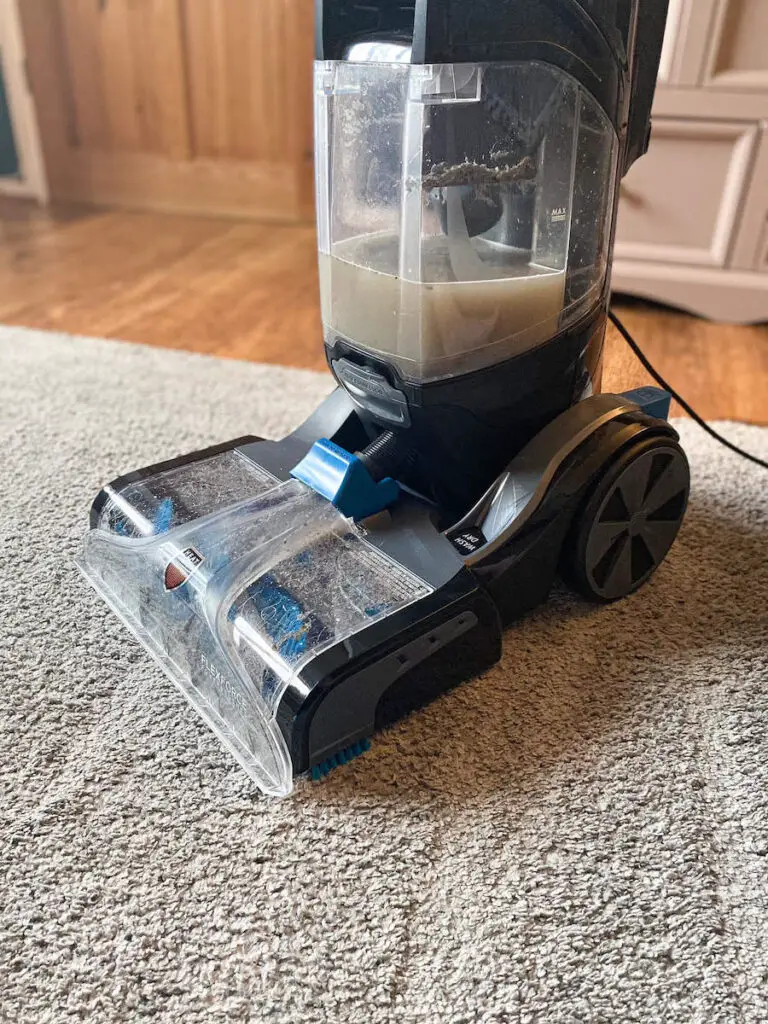 I hope my Vax Platinum Smartwash Carpet Cleaner Review really helped you to decide on the carpet cleaner; it really is incredible and please let me know if you pick one up what your thoughts are on it. Above I have shown a little sneak peak of our master bedroom but if you would love to see more on how we completely changed our bedroom on a budget you can check it out here. Or you can hear more about my pregnancy and how it has been being pregnant during a worldwide pandemic in my 10 Honest Truths About Pregnancy During a Pandemic.
Katie x