*My 2020 Beauty Must Haves post contains some gifted items and affiliate links
I am so excited to be writing this blog post, I think it may be my first ever beauty must haves post. I am absolutely obsessed with Beauty products and I'm really enjoying getting back into beauty again over on my Instagram. Full reviews of these products will be up throughout the year and I will share any new products I find too. Featured will be my make-up, skincare, haircare, body care and scents. Its going to be a long post so get a cuppa and settle in for My 2020 Beauty Must Haves.
skincare must haves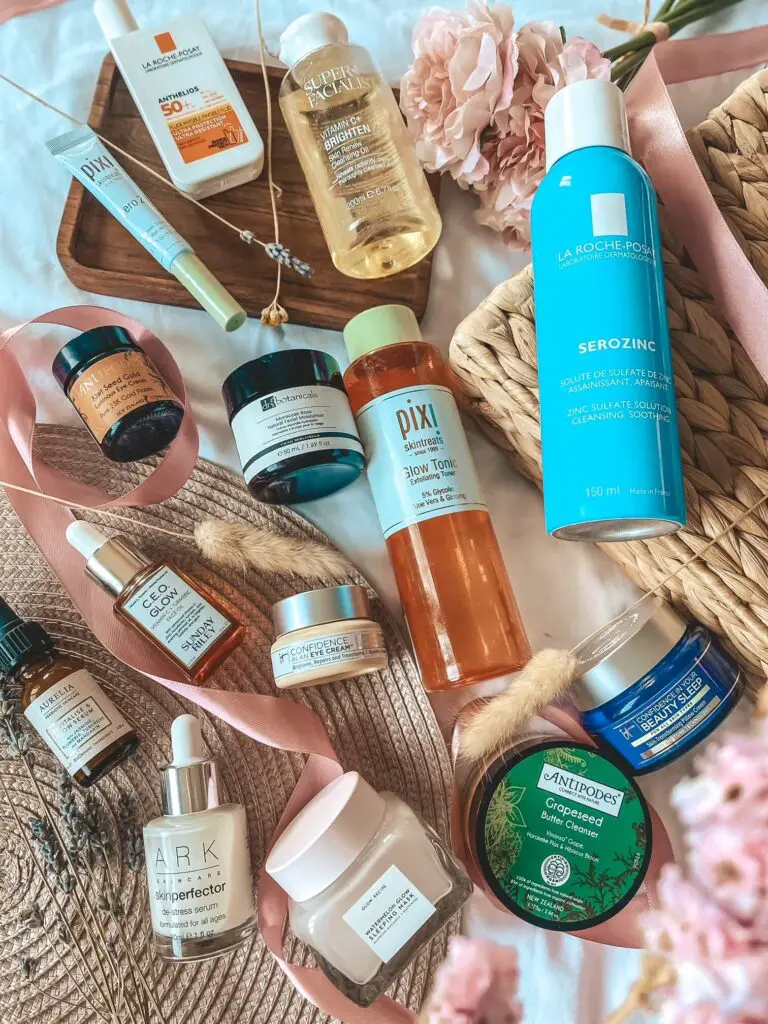 La Roche Posay Anthelios spf50
If I go outside in the day I wear spf 50, not only does it protect your skin from the sun but it also prevents premature ageing and actually protects your skin from fine lines, wrinkles, pigmentation issues and rosacea. The La Roche Posay SPF is incredible; dries super quick and makeup can be applied straight away. This literally just feels like a second moisturiser. I apply my spf last in my skincare routine and yes I do wear moisturiser underneath.
pixi zero zit
Pixi Zero Zit is my go to product if I have a spot anywhere on my face. I apply it either on a red under the skin bump or if I have a white head I safely remove it then apply the Zero Zit on top to help with scarring. My skin scars very easily and I have noticed that acne scarring isn't as severe when I use this.
Super facialist cleansing oil
The Super Facialist Vitamin C Brighten Cleansing Oil is incredible. Honestly it is one of my favourite ever cleansers and at just £12 for this huge bottle that lasts me at least 6 months of twice daily use it is an absolute bargain. This had to make it into my 2020 beauty must haves because I have used it without fail every single day. I have dry skin that can sometimes become flakey and this really soothes my skin and helps it feel more moisturised; non of that horrible striped feeling, just nice soft freshly cleansed skin. If you haven't tried it you need to.
la roche posay serozinc
La Roche Posay's Serozinc is one of those products that just helps soothe your skin. You know sometimes if you've gone a little too hard with a facial scrub or acid and your skin is a little sensitive, a little spray of this and letting it dry on your skin is one of the most refreshing things ever. I even used this while in labour with Elara I love it that much. I really feel like it locks in the moisture in my skin before going in with serums and moisturisers/oils.
pixi glow tonic
This wouldn't be My 2020 Beauty Must Haves without a Pixi product or two. Everyone must have heard of the Pixi Glow Tonic by now; it is the most talked about Pixi product ever, and for good reason. Glow Tonic is a mild Glycolic Acid Exfoliating Toner that can be used daily to help with removing dead skin cells that sit on the surface of your skin and smooth your skin out. It really is a lovely product and will go on the skin after cleansing and before serums and moisturisers. I have used this daily for years and love it. I am currently using it every other day as my skin has got very sensitive in pregnancy; it still doesn't irritate, its a very gentle but powerful acid.
dr botanicals moroccan rose moisturiser
This Dr Botanicals moisturiser has to be the best smelling moisturiser ever. I usually hate the scent of rose but this scent is so subtle and natural that it is super pleasant to apply every morning. I love how instantly it sinks into the skin and my makeup and spf just glide onto it with no tugging of the skin.
antipodes kiwi seed gold eye cream
This Antipodes Gold Eye cream is THE most brightening eye cream I have ever tried, and I've tried a lot. It really helps disguise my under eye dark circles on days that I'm not wearing makeup and on days that I am it really helps my concealer not to crease. I really love this eye cream and can't see me ever changing to another again. That being said I only use this in the morning due to how brightening and light it is. I reach for a heavier eye cream in the evening; which leads me onto . .
it cosmetics confidence in an eye cream
The It Cosmetics Confidence in an eye cream is a lovely thick ekyecream that really smoothes under my eyes and makes them feel instantly moisturised. It can be used morning and evening but I reach for it more in the evening thanks to how rich it is. It feels so luxurious under the eye and almost like it plumps the area, leaving fewer fine lines.
it cosmetics confidence in your beauty sleep
The It Cosmetics Confidence in your Beauty Sleep Night Cream is absolutely beautiful. It has a weird addictive texture that I cannot explain but it somehow keeps the other products and itself on your skin and doesn't transfer onto your pillow which is incredible. No dirty skincare covered pillows and skincare actually working for your skin too. It also has a gorgeous lavender scent that really sets me up for a good nights sleep and I wake up with baby soft smooth skin. Love this so much.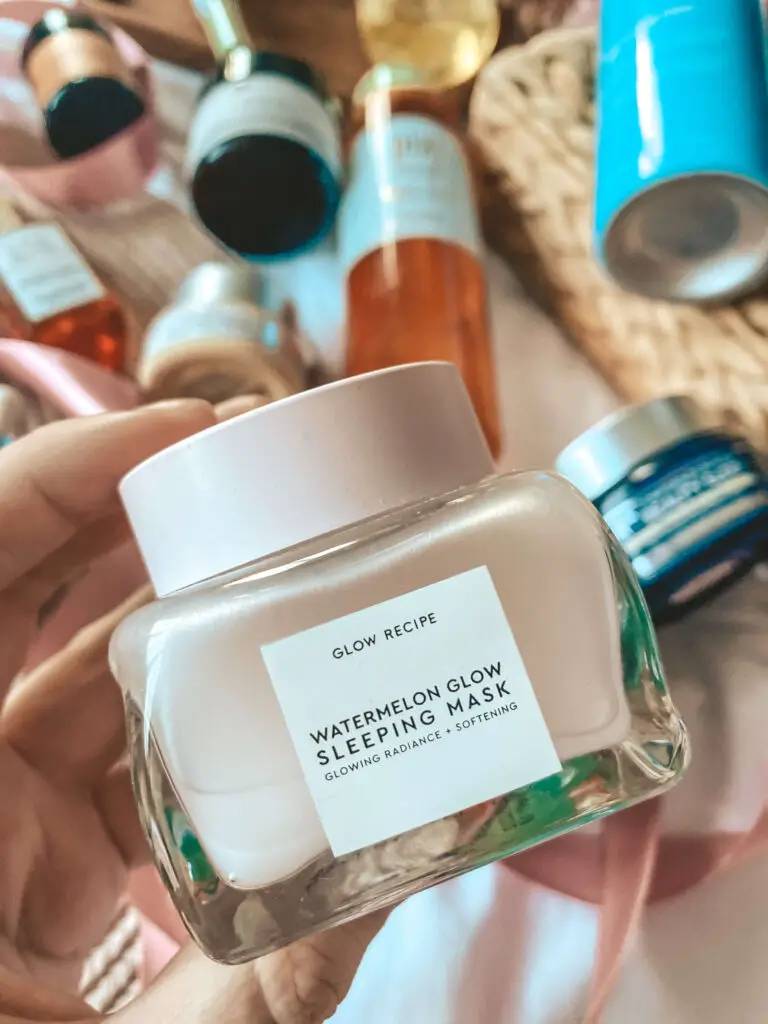 glow recipe watermelon glow sleeping mask
On the days when my skin needs that little bit of an omph at night I reach for this Glow Recipe Sleeping Mask and apply it over my night cream. It is a jelly like consistency in the most beautiful watermelon scent and just soaks into my skin making me have the most beautiful glow from within skin the next day. I don't use this every night purely because my skin doesn't need it and I don't want to waste it because I love it so much.
sunday riley ceo glow face oil
I am all about chasing that glow from within with skincare and this Sunday Riley Face Oil is my go to day time face oil. Sometimes my skin just needs that extra layer of moisture and I will add this on top of my moisturiser. I love slathering this on when I am in for the day (uh hello all of 2020) and really allowing my skin to soak it all up and enjoy the feeling of well moisturised skin. This oil sinks in very fast so you can still apply makeup after it I just don't tend to as being a mum I just throw on my face as quick as possible most days.
aurelia revitalise and glow serum
This is my go to 'glow' serum when my skin isn't breaking out; its fine to use on breakouts I just have a 'special' breakout serum that I will talk about next. But this Aurelia Revitalise and Glow serum is so incredible that I NEED to get my hands on the rest of the Aurelia collection. It sinks into my skin super fast and makes my skin look super fresh and healthy instantly. I have noticed such a huge improvement in my skin since introducing this serum around April time and I honestly cannot imagine ever stopping this because it is heavenly. You really do need to give this a try if your after that healthy glow from within skin.
ark skincare de-stress serum
And this is the other serum that I reach for when my skin isn't quite behaving how it should; for example when my period is due or like currently when my pregnancy hormones go wild and cause me to breakout. The Ark de-stress serum is great for skin of any age that has any issues with skincare 'stress', things that aren't working for your skin such as acne, dry patches or literally just when you feel under the weather. A really lovely serum that helps my skin to recover from bad patches.
antipodes grapeseed butter cleanser
The Antipodes Butter Cleanser is my go to second cleanse to ensure very scrap of makeup is removed. Pair this cleanser with a warm damp flannel and my skin feels incredible afterwards. I can really tell the difference the next day if I have been lazy and skipped this step and end up kicking myself. It's a really lovely butter cleanser that just melts away the days makeup and grime and leaves me feeling so refreshed. Its super gentle and I can even use this around my eyes; although don't get it in your eyes. Antipodes do some incredible products and I could have easily added the entire range to my 2020 beauty must haves post but I had to reign it in.
makeup must haves
Now onto My 2020 Beauty Must Haves makeup stash. Although I haven't left the house much this year I have still been creating content and I just love putting makeup on in general and just having fun creating different looks.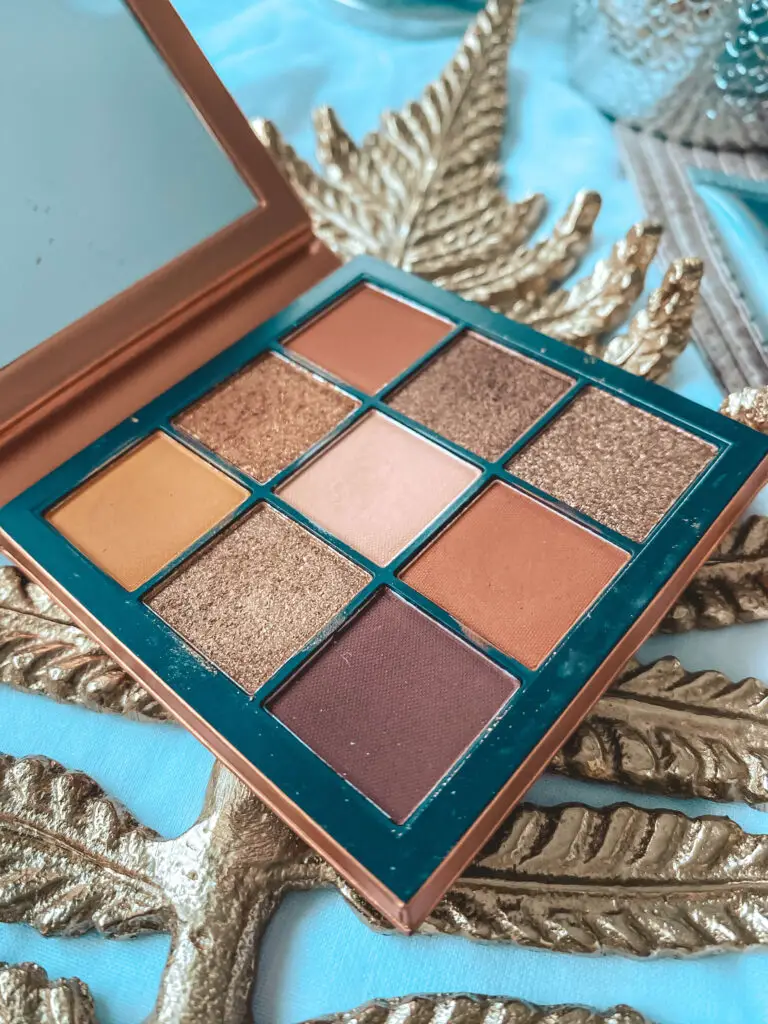 huda beauty Precious Stones Obsession Eyeshadow Palette Topaz
This Huda Beauty Topaz palette is just gorgeous. I have used it so much throughout the year to create so many beautiful eye looks and it still looks as good as new. I am definitely more of a neutral smokey eye kind of girl and I love shimmer any time of day. I absolutely love the rustiness and richness of these colours and the formulation is great. I definitely want to try out more from Huda Beauty in 2021.
spectrum brushes
Spectrum Brushes are my go to makeup brushes. They are vegan and cruelty free and made my the loviest little welsh company. I was lucky enough to go to Spectrums first ever blogger event and since then they have just grown and grown into such an amazing business. These brushes are hands down the best brushes I have ever tried and they are just beyond gorgeous to look at too. You can find a mini review here- Spectrum Must Have Minis Set.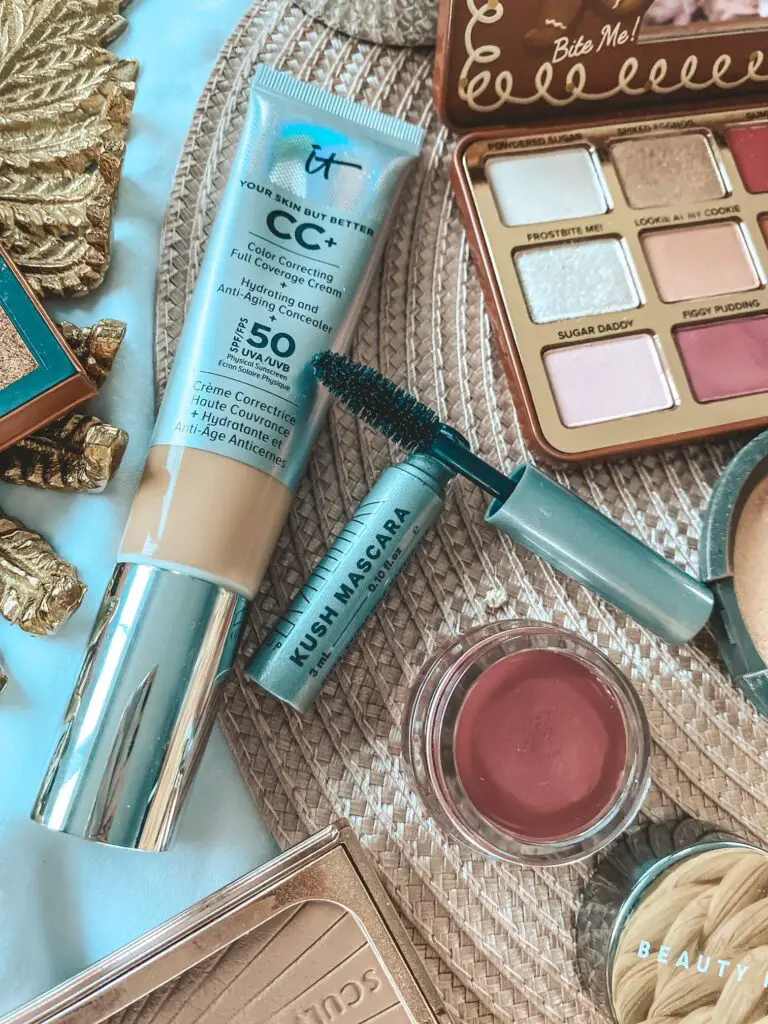 milk kush mascara
This is actually a little mini that I received in a Space NK goodie bag for spending a certain amount of money back in the spring and I have used it every time I wear makeup and there's still loads in there. I am not one for throwing away makeup after its been open for a certain amount of time unless there is a change in the makeup etc. Only I use my makeup so its perfectly safe. This Milk Mascara is so volumizing and really separates out my lashes.
it cosmetics cc cream
The It Cosmetics CC cream has been one of the best purchases of 2020. I absolutely adore it. Its the perfect coverage, the perfect consistency and is super quick and easy to apply. It's the perfect quick mum base for me and I just adore it so much. I use the shade light and its a perfect match for me in the winter and without a tan, in the Summer or when wearing fake tan I change to the medium shade.
beauty pie supercheek cream blush
I picked this Beauty Pie cream blush up int he shade French Raspberry and oh my days it's beautiful. My go to blush this year and especially during Autumn and Winter. A tiny bit goes a long way and I just know this will last me ages. I love the finish a cream blush gives on my dry skin, very dewy with a soft natural look. Beauty Pie has some amazing products. Full blog post on Beauty Pie coming soon.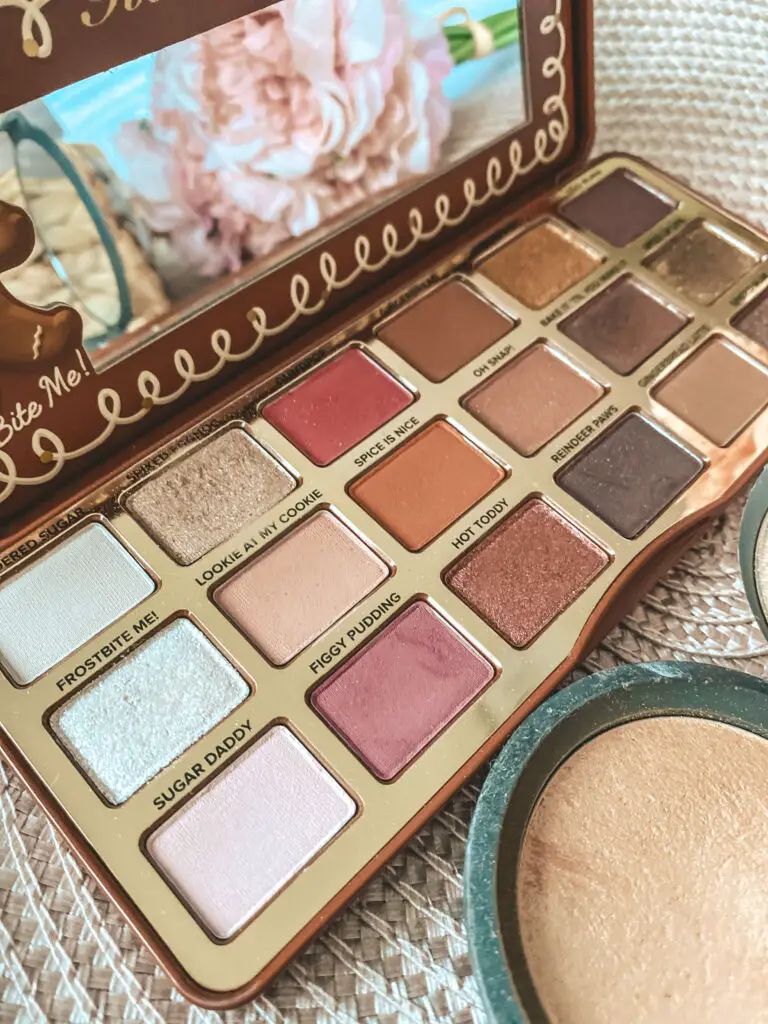 too faced gingerbread palette
This palette HAD to make it into My 2020 Beauty Must Haves, I use it so often that it's been on my instagram more than my own face at this point. Too Faced do the best palettes I have ever tried. I am obsessed. Literally everything I have ever tried from Too Faced I have absolutely loved but this palette is my definite fave. It smells like gingerbread and it has the most beautiful selection of shades in it. Like I said before I am a huge shimmer lover and this palette has plenty of shimmer. Spice is Nice and Hot Toddy were the eyeshadows I used in the Summer of that pink and orange eye look. There are so many shades in this palette that you can use it from day to night super easily. If you see this around I urge you to buy it, you will not be disappointed.
Becca champagne pop higlighter
This highlighter has been my go to highlighter for years. It is blindingly beautiful and gives you that incredible glow that you can pop on your cheekbones. If I am wearing makeup you can 100% guarantee that I will be wearing this.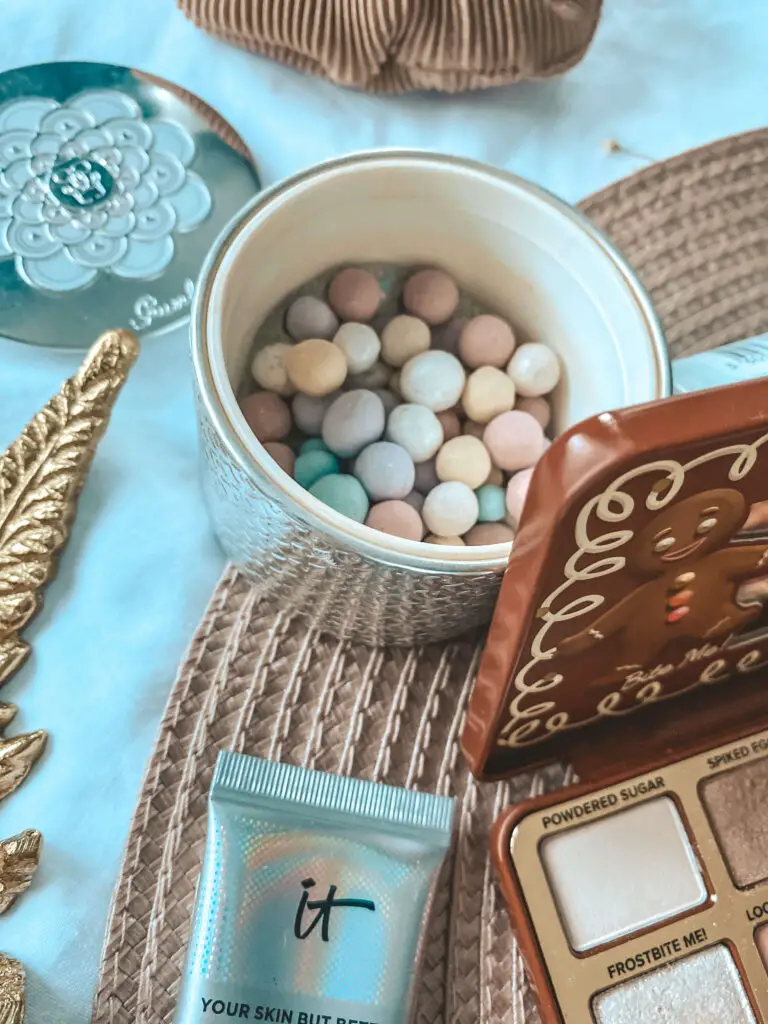 gurlain pearls of powder
These little balls (pearls) are just beautiful. This leave a subtle glow all over the skin and it is my go to powder if I'm having an oily skin moment without losing the glow. The scent is unreal, they literally smell like parma violet sweets and there's been a few sneezing fits after I've accidentally sniffed a little too hard. If you feel you need a powder but don't want to be matte, this is the powder for you.
beauty pie cream shadow sticks
I have quite a few of these beauty Pie Cream shadow sticks lying around and I love them. So quick and easy to pop on to look all put together when actually it took you 10 seconds. I love them. These would be perfect for school run mums that want to look a little more ready.
charlotte tilbury film star bronze and glow
This cute little palette from Charlotte Tilbury is perfect for if I'm feeling a bit more fancy and want to do a bit of contour. I have to admit I barely ever do it anymore but this little bronzer is fab for adding warmth to my face and the highlighter for adding to my cupids bow and under my eyebrow. A lovely little palette that I've loved for years.
This post has become so much longer than I ever thought possible so I'm going to put Haircare, Bodycare, Fragrances and other misc bits into My 2020 Beauty Must Haves part 2. I hope you've found some lovely new brands from this post; each and every single product here is incredible. If your after some Beauty Products for gifts I also have a Beauty Lovers Gift Guide you get inspo from.
Katie x